The Wild Atlantic Way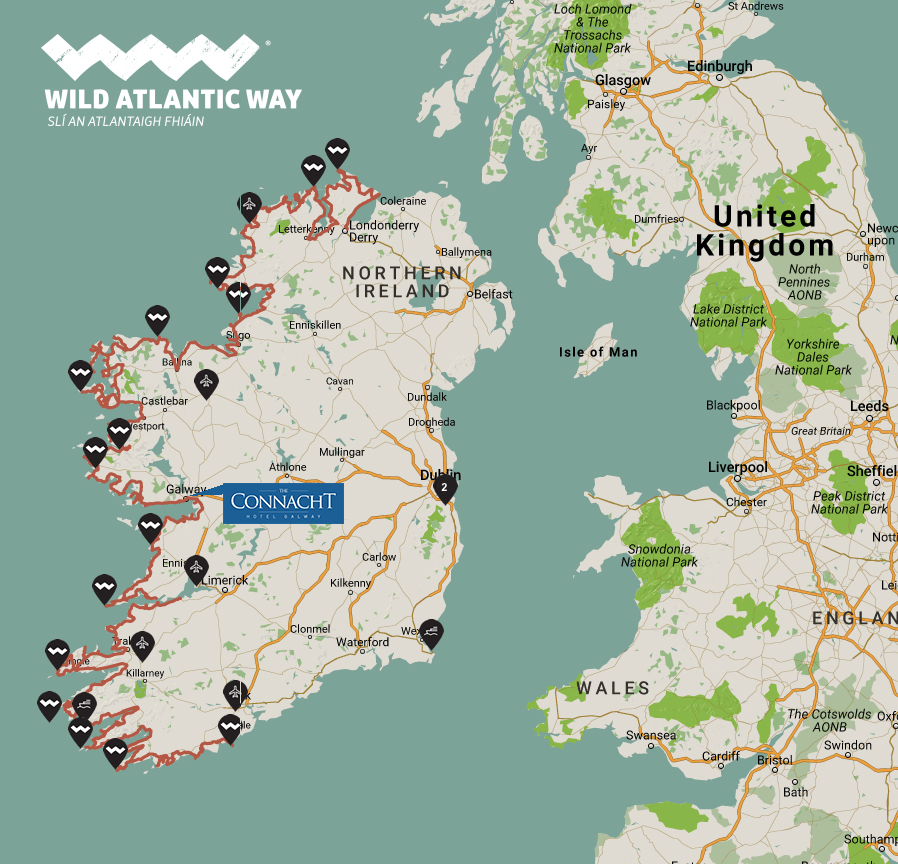 The Wild Atlantic Way is a sprawling tourist trail on the west coast of Ireland. The 2500km route passes through nine counties and three provinces, from Donegal's Inishowen Peninsula to Kinsale in Cork. Along the route there are 157 discovery points, 1000 attractions and more than 2500 activities. The Atlantic Ocean is the backdrop to one of the world's most scenic drives.
Right in the heart of the Wild Atlantic Way is the jewel in the crown of the west coast; Galway city. And as it is the only city on the route, Galway is ideally located as a stop off on this magnificent tour. Internationally regarded as one of the world's friendliest cities, Galway is renowned for its wonderful atmosphere and abundance of festivals throughout the year.
Explore the wild and rugged coastline
"It's a place for clifftop walks, island-hopping, traditional pubs … and soul-stirring views: rainbows in the ocean spray along the Loop Head Drive; colonies of puffins on the sheer Cliffs of Moher; bottlenose dolphins in the mouth of the Shannon; and the view of Clare's mountains from Kerry's Cliffs of Dooneen."

Tourism Ireland
With 6 Discovery Points of the Wild Atlantic Way, between Co. Mayo, Co.Galway and Co.Clare - along the Cliff Coast, Galway City is an ideal stopping point enroute.
Downpatrick Head, Ballycastle, Co.Mayo
Keem Bay, Achill Island, Co. Mayo
Killary Harbour. Co.Galway
Derrigimlagh, Co.Galway.
The Cliffs of Moher. Co.Clare
Loop Head, Co.Clare