Bubbles & Brunch at the Races
We are delighted to be able to host our 2nd annual Race Week Bubbles & Brunch in Aid of Act for Meningitis. An action packed pre races event on Wednesday the 31st of July.
This year's 'Bubbles and Brunch' promises to be another wonderful day of fashion, food, racing and a few surprises with the funds going to local charity ACT for Meningitis.
TICKETS €45.00 PER PERSON
Lively Drinks Reception from 12.30pm
An elegant 3 Course Brunch served with Prosecco
Special Performances & Live Music
Showcase from Renowned Galway Milliners
Optional Transfers to the Race Course
Supporting a Great Cause
The entire event is to raise much-needed funds for ACT for Meningitis which was set up in 2011 by Siobhan and Noel Carroll following the tragic loss of their daughter Aoibhe, aged just 4, to Meningitis. Losing Aoibhe changed their lives forever and they wanted to try and prevent another family going through that heart break.
They felt there was an urgent need for more awareness around Meningitis and that support be made available to anyone affected by the disease, therefore, in July 2011 they set up ACT for Meningitis,with a Mission to raise awareness, to promote education and to provide support to those affected by meningitis in Ireland.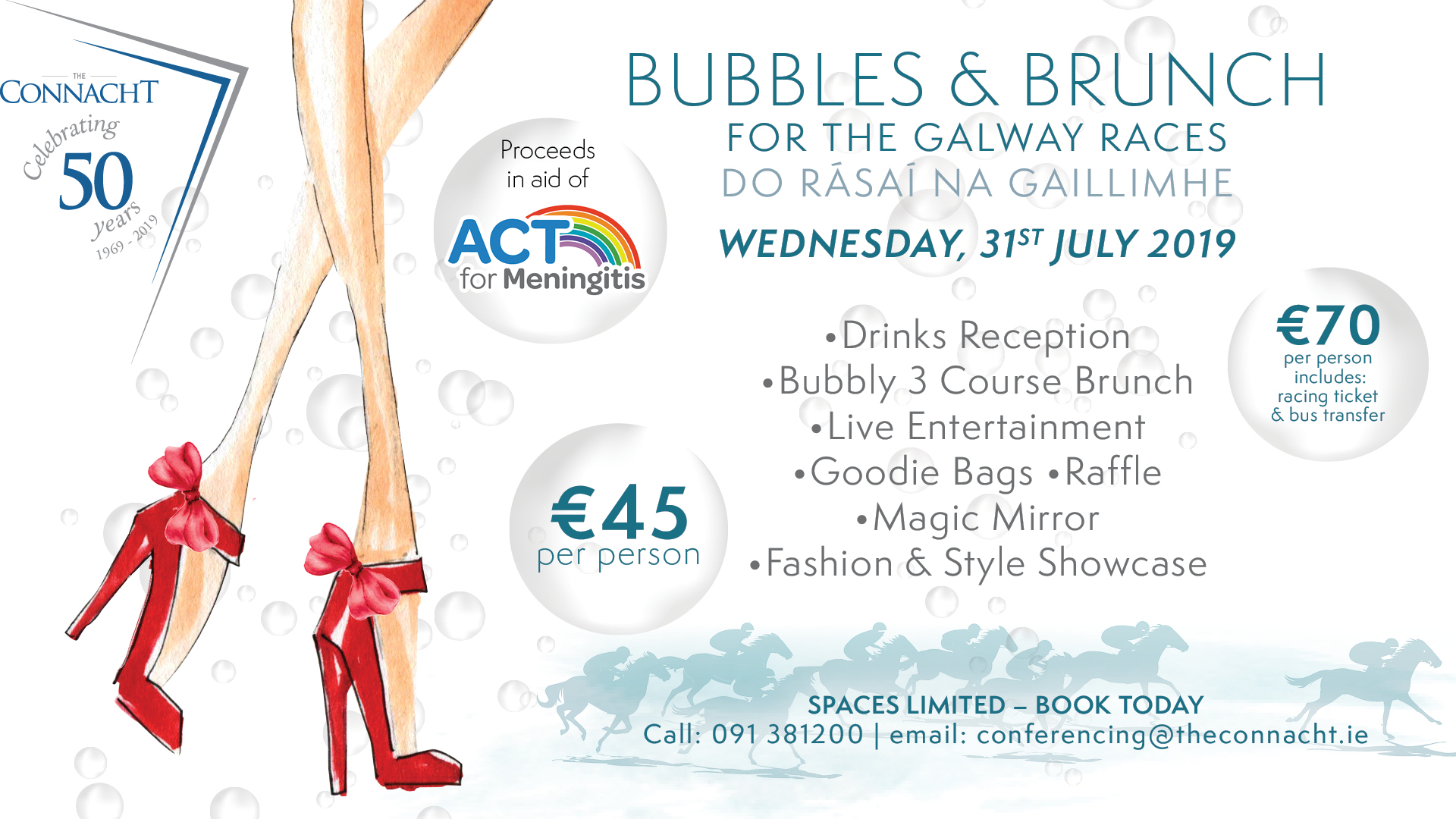 February Midterm Breaks
Tailor-make your family break with options for Kids Club, Pool & Family Dining
Easy as 1-2-3 - Easter Breaks
Choice of Family Rooms & Bunk Bed Rooms with Kids Club, Pool & Family Dining
Easy as 1-2-3 – Summer Offers
Memorable Summer Family Holidays with Kids Club, Pool & Family Dining
GALWAY 2020, BOOK EARLY & SAVE 12%
Plan a trip of a lifetime to Galway in 2020, The European Capital of Culture. Book Early & Save 15%.
Apartments
Choose from 1 & 2 Bedroom Apartments or Family Suites
Galway Races 2020
Galway Races 27th July - 2nd August