50 Reasons We Love Galway
As we celebrate our 50th year, we've compiled a list of 50 Reasons We Love Galway...
50 Reasons We Love Galway
1. Food
Galway has become Irelands Gourmet capital, and European Region of Gastronomy 2018, with a host of amazing restaurant's and eateries. From Michelin Star restaurants to amazing street food Galway has it all. We even have a number of festivals to celebrate the culinary scene which is no real surprise as everyone knows Galway loves a good festival. One of the Galway Food Tours is definitely worth checking out if you have time and a passion for amazing food.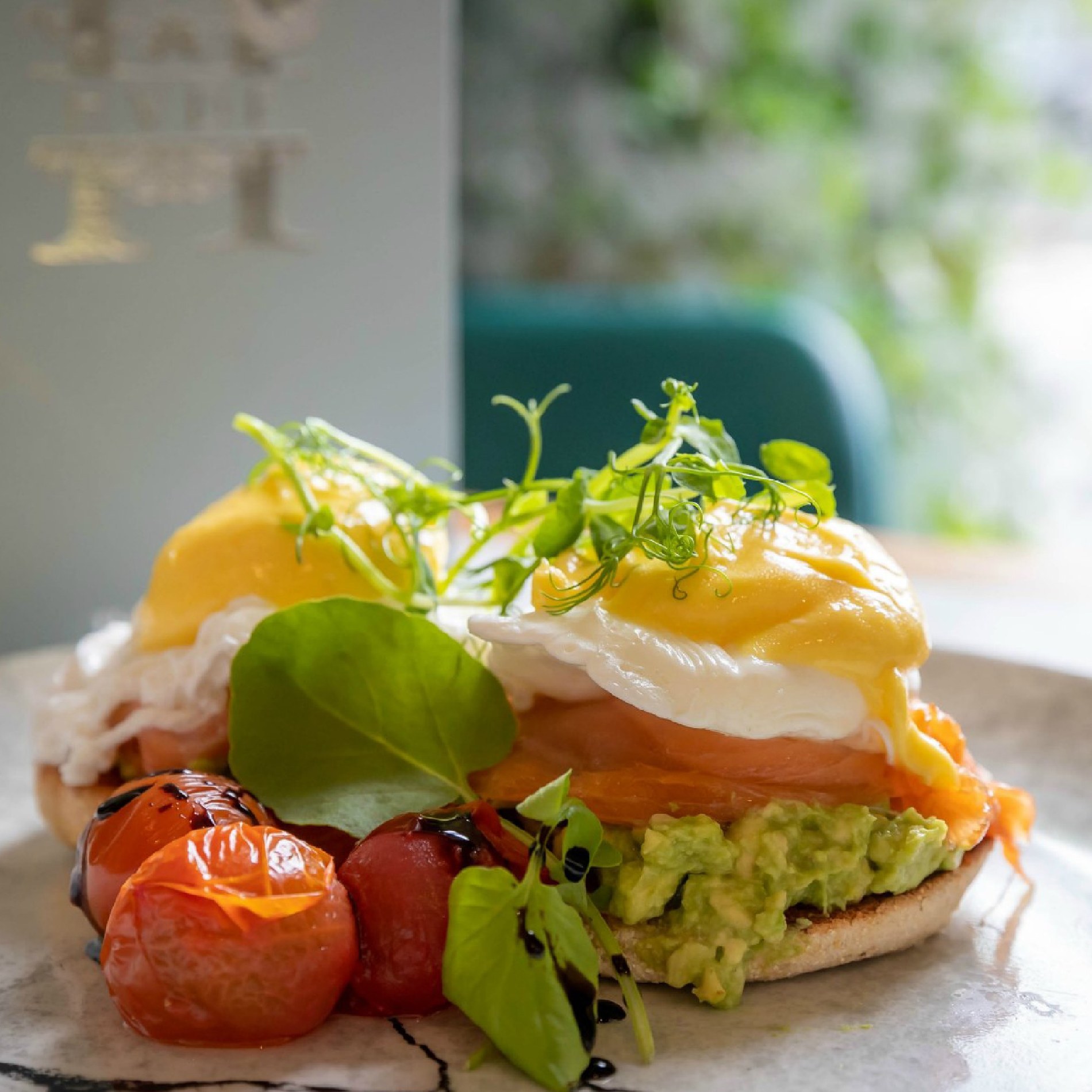 2. The Prom
The Prom, one of the most beautiful places along the Wild Atlantic Way, a short distance from the city centre it's busy all year round. Crowds flock during the occasional sunny days in Galway but even on the windy evenings you'll find plenty of hardy souls our for a walk or swim and possibly Teresa Mannion in the background too!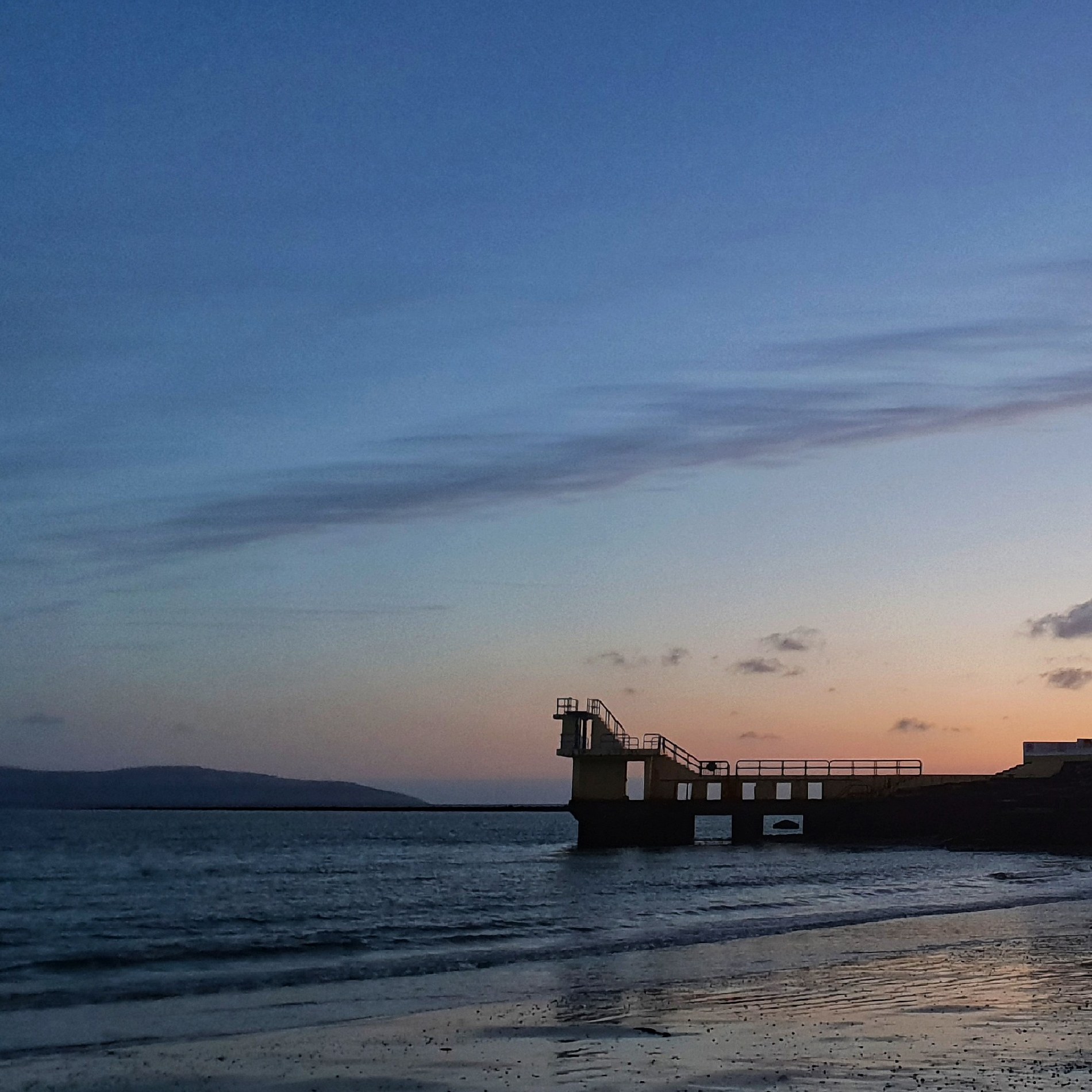 3. The Corrib Princess
One way to enjoy the beautiful Galway scenery is to take a trip on the Corrib Princess. This delightful cruise take off from Woodquay and takes you along the River Corrib onto Lough Corrib the largest lake in the Republic of Ireland. Apart from the spectacular views the Irish Coffee's have to be tried onboard, while you watch someone try to replicate the Leo and Rose on the Titanic.


4. The Aran Islands
The Aran Islandsare 3 rocky isles guarding the mouth of Galway Bay. They're known for their ancient sites. The largest island, Inishmore, is home to the prehistoric fort of Dún Aonghasa, perched on top of a high cliff. Nearby is the Worm Hole, a rectangular natural pool. Well worth a day trip - Book your Tickets with Aran Island Ferries.


5. Kylemore Abbey
The story of Kylemore Abbey is one that spans over 150 years of tragedy, romance, innovation, education and spirituality, sounds like the plot to a great Netflix series to me. The beautiful castle which was built in 1868 is now the home of the Benedictine community of nuns and one of the most photographed tourist attractions in the county.


6. Kinvara
Kinvara is truly one of the gems of the Wild Atlantic Way, a beautiful village with a number of fantastic café's bars and restaurants which are well worth a visit. Kinvara is also famously home to Dungaire Castle. The castle comprises of a 75 foot tower and defensive wall against a truly stunning backdrop helping to make it the most photographed castle in Ireland.


7. Nightlife
Are you really Irish if you haven't had a great night out in Galway? With countless amazing bars and nightclubs it is the one place you are guaranteed a great night out seven nights a week. From locals to tourists there is something for everyone, with brilliant trad sessions, top class cocktails, the best of Irish music and entertainment and some unbelievable characters.


8. Galway Farmers Market
Galway's famous bustling markethas been trading in Church Lane by St Nicholas' Church in the centre of Galway city, County Galway, for centuries. Visitors will find hundreds of stalls selling fresh produce and locally produced crafts. There's a great variety of food available, Madras curry, yummy crepes, Japanese Sushi and mouth watering handmade chocolates among many others or ingredients for a delicious gourmet picnic.

The market is open Saturdays and bank holidays from 8.30am-6.00pm and Sundays 2pm-6pm.


9. An TaibhdHearc
Ag leanúint leis an bhfís a bhí ag lucht a bunaithe, go mbeadh An Taibhdhearc mar láthair d'ócáidí agus do dhrámaí Gaelacha go ginearálta, táthar ag cur i gcónaí leis an réimse siamsaíochta a bhíonn ar fáil sa Taibhdhearc idir dhamhsa, ceoldrámaí, oícheanta ceoil agus réimse leathan drámaíochta ar feadh na bliana. Is iomaí oíche shuáilceach, aislingeach a caitheadh i dTaibhdhearc na Gaillimhe ón mbliain 1928 agus leanfar leis an traidisiún sin amach anseo.


10. Town Hall Theatre
It's crucial to have a social outlet that's not just based around alcohol. The Town Hall Theatre is always a hub of activity with a host of entertainment for the culture vultures, whether its Don Baker in concert, Dirtbirds Self Help tour or Our House by the Galway Musical Society.


11. Roundstone
Another place that is a must visit if you are out for a drive along the Wild Atlantic Way. Roundstoneis 77km from Galway city and a very popular holiday resort renowned among artist and naturalists for the remarkable beauty of the local scenery. Take a drive there and enjoy some of the most beautiful scenery Ireland has to offer.


12. Music
"Yes I wish I was on that N 17, Stone walls and the grasses green. Travelling with just my thoughts and dreams" It's impossible to see the stonewalls along the N17 without thinking of the iconic Saw Doctors song. To be fair Galway has inspired a few decent tunes, including; The Fields of Athenry and a couple about the local females of which Ed Sheeran was fond of apparently.


13. Galway 2020
Galway is the European Capital of Culture along with Rijeka, in Croatia. The entire county came together to win the big and next year promises to be a year long festival of art and culture. Galway 2020is a development of an ambitious series of large-scale county-based projects" and is an expression of confidence that we hope will encourage others to come forward".


14. Bilingual city
The Irish language plays an important role in creating Galway's vibrant atmosphere and reputation as a city of culture and the widespread use of 'an Ghaeilge'. How lovely is it to hear Irish being spoken on the streets or in the stores of Galway. Adult Irish classes are available in a number of places and are much more fun than I remember from school.


15. The Christmas Market
Galway is just incredible when the Christmas Marketopens each Novemeber. The smells and sights in Eyre Square are just wonderous. The way the entire city lights up is magical. It's an Instagram heaven but a real treat for the whole family and a must visit.


16. The Galway International Arts Festival
The Galway International Arts Festival is one of the best festivals in the country, running from 15-28 July 2019, with the likes of Bell XI, The Acadimic, Macy Gray and Burt Bacharach playing the big top, with countless other events around the city and county.


17. The Galway Races
Celebrating its 150th anniversary this year and is pretty much the best week of the year, in Ireland. The style, the craic, the horses its just a brilliant week of racing, of catching up with old friends and making new ones. If you haven't been to the Galway Races this is the year to change that fact.


18. Comedy Festival
The Vodafone Comedy Carnival Galway is held every October during the midterm break and over the Bank Holiday weekend. The programme is carefully chosen to bring both top award-winning comedy stars from around the world and up-and-coming talent to Galway over the October bank holiday weekend.


19. The Claddagh
The Claddagh or 'An Cladach' meaning 'the shore', is a notable area in Galway, on the western side of the city. The Claddagh was once an ancient fishing village, dating from the fifth century. This community, most of whom sold their daily catches at market near the Spanish Arch, lived in thatched cottages. They sailed in the famous Galway Hooker boats and spoke Irish. They even had their own king, who led the fishing fleet and settled disputes in the community.


20.Spanish Arch
Known by the locals as "the Sparch" the area is famed for its love of certain caffeinated fortified wine. A historic location with stunning scenery it's a wonderful place for a stroll in the Galway sunshine. The long walk is a beautiful and very photogenic part of the city.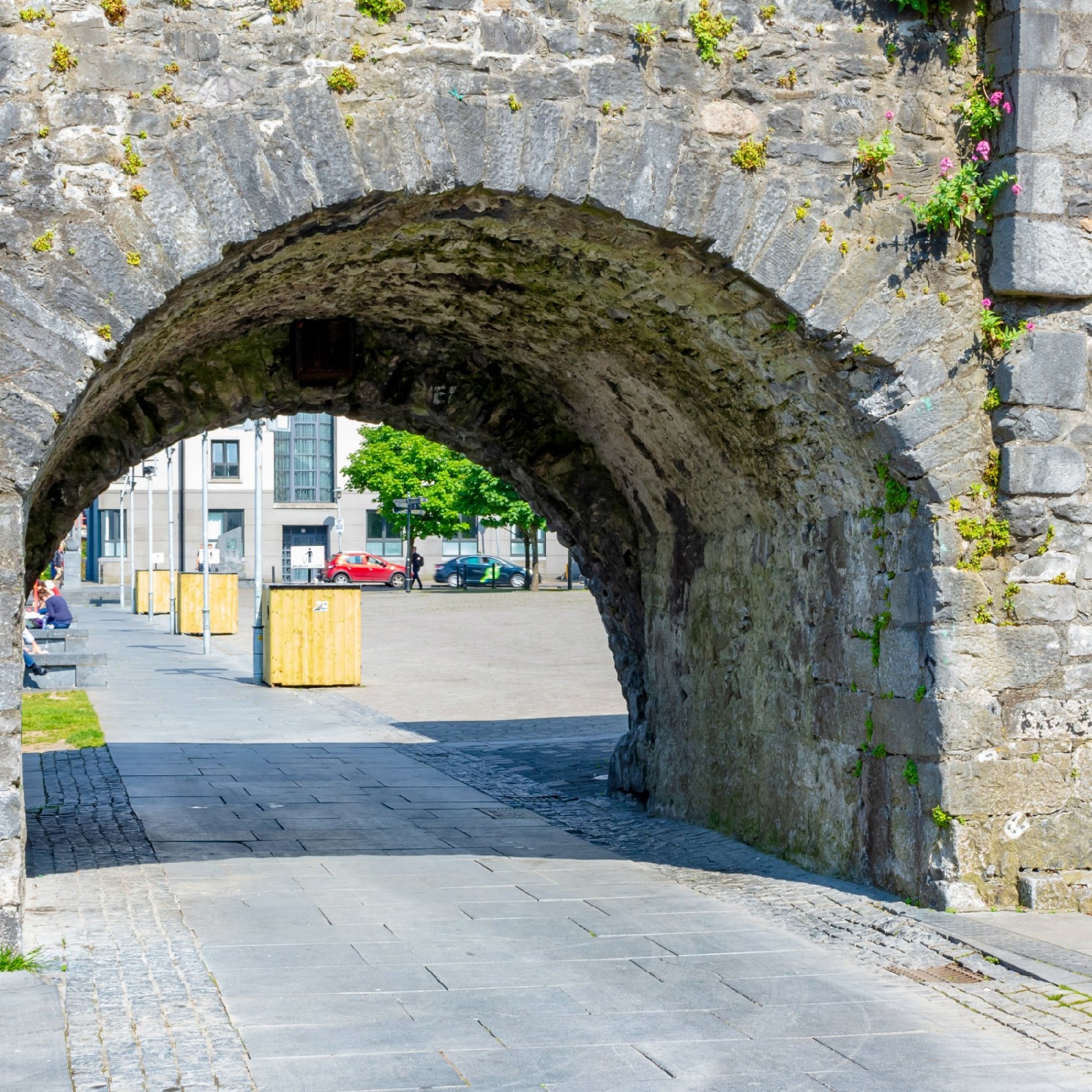 21. Trad Music
Galway is a haven for brilliant trad music, pubs like An Pucan and many other have daily sessions when tourists and local can enjoy the tunes. Many pubs arrange sessions others just happen, its Galway afterall anything is possible.


22. Supermacs
As we said Galway is a hotbed of culinary brilliance, some say that was started about 40 years ago by a certain Pat McDonagh. It's not a night out in Galway without a visit to Supermacs, that's an actual law here, honestly!


23. Cinemas
Galway has a number of great cinematic options the latest addition to the fold is 'An Pálás' a three screen arthouse cinema and cultural space in the UNESCO city of film- Galway. Designed by Architect Tom de Paor, Pálás is a concrete monolith, five storey over double-height basement housing a three-screen independent cinema, a beautiful bar and restaurant for you to enjoy with your fellow film-lovers. It occupies the garden of a reinstated 1820s merchant house.


24. Smart City
Galway is officially a smart cityand that's not just because I live here. A high-speed free public wifi service is available in Galway city centre. The wifi corridor stretches from Spanish Arch to Eyre Square. The initiative is being run between telecoms company Magnet Networks and the Galway business community. Local businesses along the route have allowed access points to be installed on their premises. It's handy for everyone particularly tourists coming to Galway for the first time.


25. Buskers
One of the best things about Galway has to be the soundtrack of the city as you walk down Shop Street. No matter the time of day or year pedestrians are treated to (mostly) very talented acts along the cobbled streets. Whether it's the wonderful Emma irish dancing or Keywest entertaining the masses there is always a few tunes to get you in good form. You never know you might here the next Ed Sheeran while you're there.


26. Sport
Galway people love their sport and the city is a hive of sporting activity. Between Galway United the local soccer team, Connacht Rugby and Pearse Stadium the home of Galway GAA. The buzz around the city when Galway won the All Ireland hurling final and when Connacht Rugby won the Pro 12 was simply incredible, hopefully it's not too long before joyous scenes return to the city.


27. Eyre Square
On a summers days it's hard to beat lunch Al Fresco in John F. Kennedy Memorial Park aka Eyre Square. Padraic O Conaire is always there to keep you company but if the sun makes any kind of appearance office workers will flock to the steps to absorb a few rays. The Galway Hooker inspired fountain is always great for a snap or two.


28. Beer Gardens
For a city that gets more than its fair share of rain it has a whole host of top class beer gardens. As a very social city bars have become very creative in the design of their outdoor spaces.


29. Micheal D Higgins
Micheal D Higgins, El President one of Galway United's biggest fans and the pride of the country. A poet, a scholar and a man of the people the two term president has been a great source of pride to the county since his days in the UCG Students Union to his tenure in the Aras.


30.Shopping
Galway is a terrific town for shopping with so many brilliant stores like Lanidor, Willow, Les Jumelles and Anthony Ryans for fashion, DC Store for skate and snowboard fashion, Mishnoc for amazing leather products and My Shop…Granny Likes It for lots of beautiful treats or Standun for the best in Aran Knitwear. There's no end to the shopping potential in the city and county.


31.Seafood
As you would expect a city on the Atlantic Coast line Galway has a wonderful seafood scene. We even have two Oyster Festivals, Galway International Oyster Festival and Clarenbridge Oyster Festival we are that passionate about sea food. Whether its fish and chips or something more up market Galway is the place to try great seafood.


32. Museum
Galway City Museum has three floors of exciting exhibitions engaging visitors in the archaeology, history and sea science of Galway. The attraction is one of Galway's most popular cultural hotspots and welcomes over 200,000 visitors per year. The museum is also free so always worth a visit especially with kids.


33. Medieval Streets
The cobbled street can be tricky to navigate when you are wearing high heels on a night out however they are dripping with history. Today Galway is a successful commercial centre and a popular tourist destination to its picturesque location, rich built heritage, as well as a vibrant cultural scene. The city has extended far beyond its medieval boundaries in all directions, however the historic core and its immediate environs still retain their importance as the commercial, cultural and administrative hub of the entire region.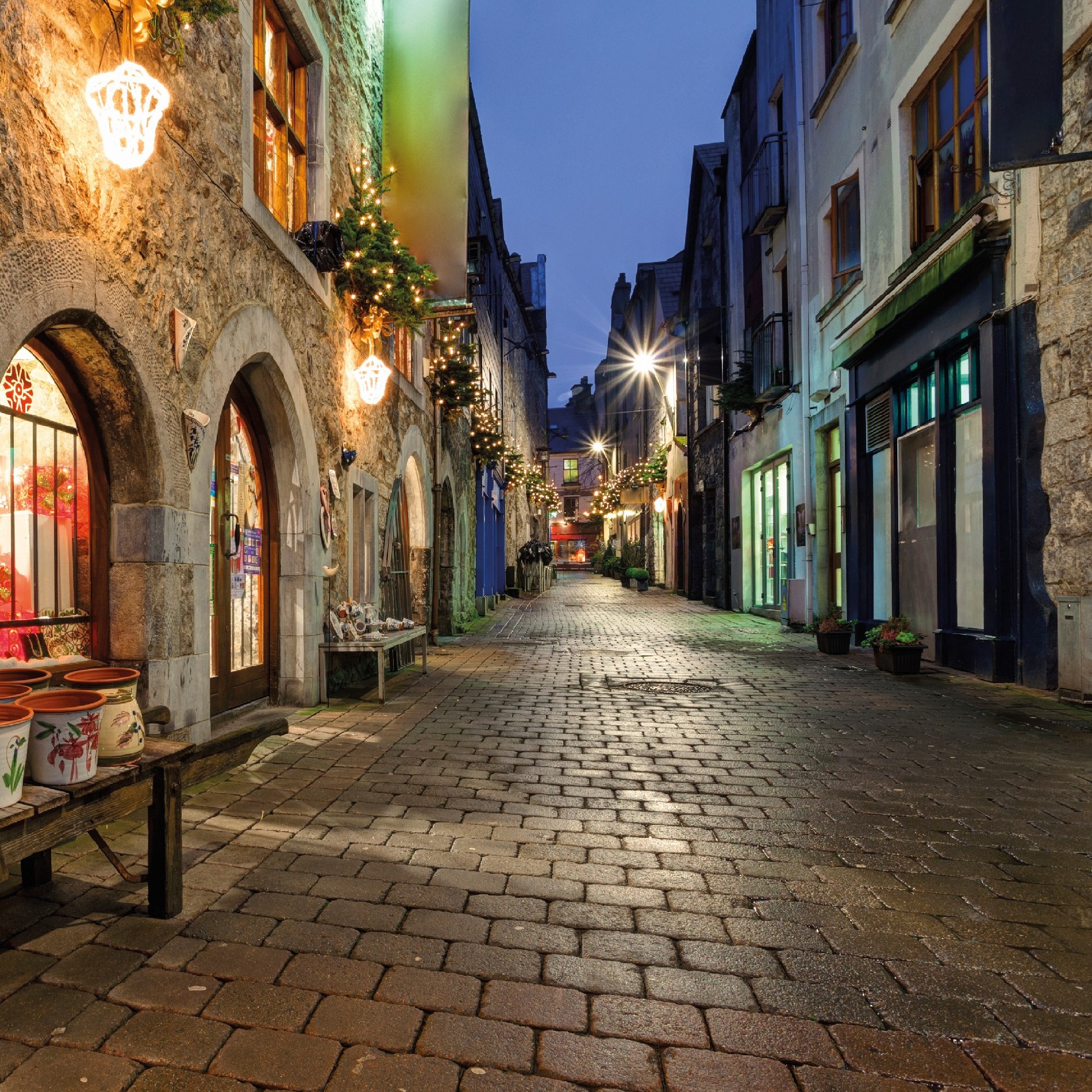 34. Worlds Friendliest City
Galway named as the Worlds Friendliest city in 2015, what an accolade and if you've visited you'll know why. The people here just seem happy and content, its not that we are blessed with amazing weather or free flowing traffic yet we tend to have a happy disposition. Walk down Shop Street and you'll end with a smile on your face, it's contagious in Galway.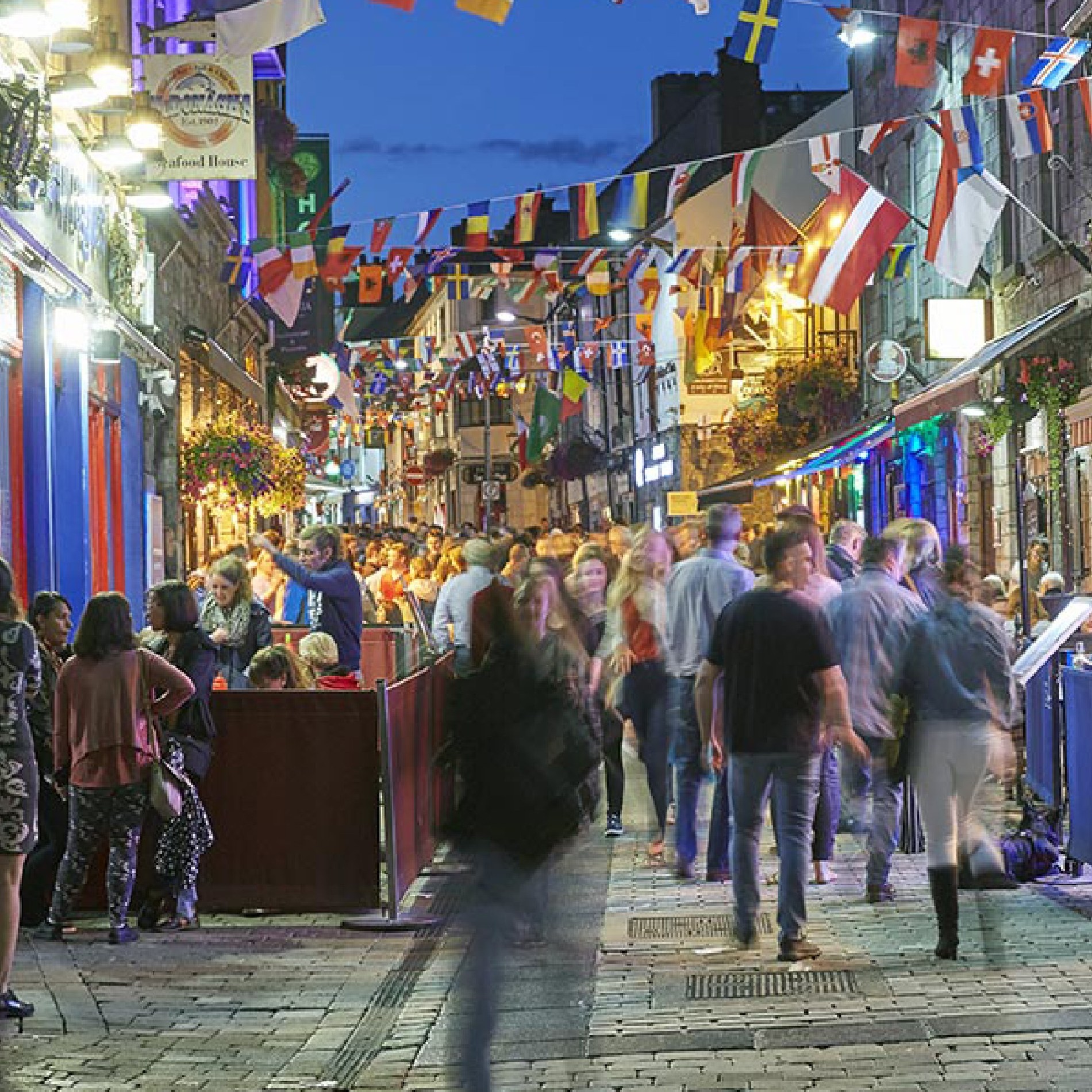 35. The heart of the Wild Atlantic Way
The Wild Atlantic Way is a tourism trail on the west coast, and on parts of the north and south coasts, of Ireland. The 2,500 km driving route passes through nine counties and three provinces, stretching from County Donegal's Inishowen Peninsula in Ulster to Kinsale, County Cork, in Munster, and Galway is located in the heart of this amazing route. It's truly the perfect base when exploring this breath taking drive.


36. Connemara
They say when you visit Connemarayou "experience the real beauty of Ireland". It's located in the north west corner of County Galway and is an area of desolate beauty, incredible scenery and some interesting attractions, which combine to make Connemara a really beautiful place and a place close to the hearts of Irish people and visitors alike.


37. Instagrammable
Two thirds of people now book their holidays based on Instagram, they see new destinations on their feed and choose holidays based on how great the trip will look on their feed. Galway has so many beautiful tourist attractions, bars, restaurants, and scenery that everyone will want to visit.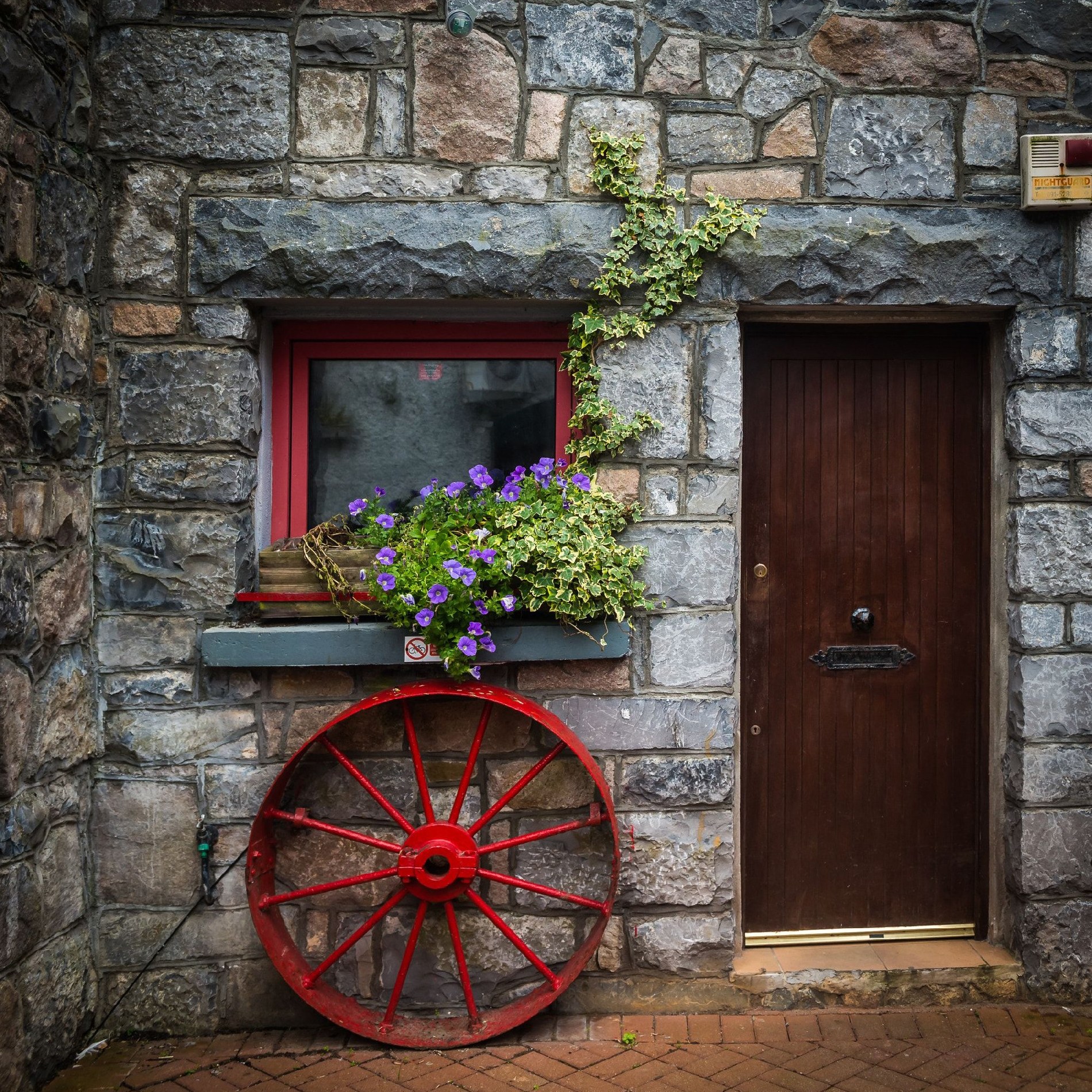 38. Macnas
Macnas is one of Galway's most exciting groups, they are master storytellers who inspire and engage audiences by creating big, bold visual shows and performances through world-class theatrical spectacle. Each October they hold a stunning parade through the streets of Galway which attracts crowds in access of fifty thousand people.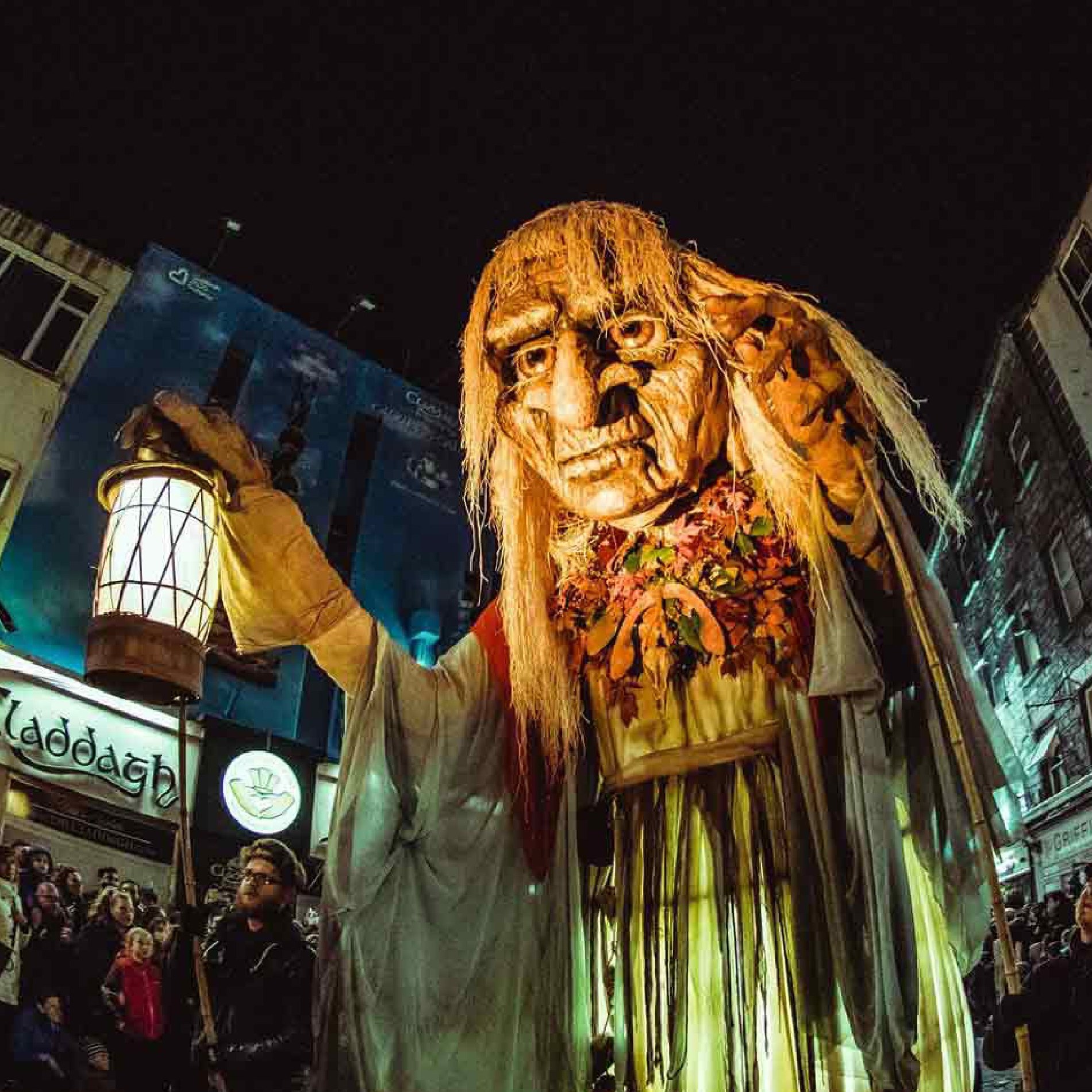 39. Students
25% of Galway's population, with GTI, GMIT and NUIGthe city is always teaming with students. This gives a great life and energy to the place particularly during the off season for tourists ensuring that Galway is buzzing all year round. It also ensure that the local workforce is highly educated which is one of the reasons Galway is home to so many top international companies.


40. Galway Aquarium
Ireland's largest native species aquarium. Two floors and over 70 exhibits designed to display the wealth of life along the Atlantic coast of Ireland. You can enjoy guided tours of our marine species from the Atlantic at Galway Atlantaquaria. An ideal family day out on one of our rare wet days.


41.Galway Cathedral
The Galway Cathedralwas opened on 15 August 1965. President Éamon de Valera lit the sanctuary candle. Construction began in 1958 on the site of the old city prison. It was completed in 1965, making it the last great stone cathedral to be built in Europe.


42. St Nicolas' Church
The Collegiate Church of St. Nicholas is the largest medieval parish church in Ireland in continuous use as a place of worship and is at the heart of Galway's life. A tour through the church will allow you to glimpse part of its rich history. You will see signs of the iconoclasm of the soldiers of Oliver Cromwell. But, by contrast, should you visit during one of the many acts of worship you will see and hear the present-day richness of the liturgy where sound and colour fill the delightful medieval building. Perhaps such liturgies are not that far removed from the sights, sounds and smells that graced St Nicholas centuries ago.


43. TG4
It's hard to believe that, TG4, the Irish Language station is around since 1996. It has done more to promote the Irish language than any aimsir fháistineach or aimsir chaite lessons. It's given the world Spanish soccer, Ros Na Run, Hector and the Seoige Sisters so long may it continue.


44. Canals
The city has a series of beautiful canals, with the stroll from NUIG to the Claddagh via these manmade waterways being particularly picturesque. You can enjoy views of the Corrib one of Europes fastest rivers on one side and the calm canal on the other. During the summer this is very popular with ducks and swans as well as people sitting out to soak up the sun.


45. Wonderful Place to work
Galway might be on the edge of Europe but it is front and centre when it comes to quality of employment. Galway is home to 9 of the top 10 MedTech Companies in the world. With a highly educated workforce it's easy to see why Galway has been attracting so many top quality jobs recently. With Galway being so accessible the quality of life of workers in the west is as good as it gets anywhere in the country.


46. Film Fleadh
The Galway Film Fleadh is both a platform for international cinema in Ireland and an advocate for Irish national cinema. Uniquely in Ireland, it is also an industry festival, with many industry events taking place under the name of the Galway Film Fair, including conferences, screenings, masterclasses, networking events, Ireland's longest-running pitching competition and Ireland's only film marketplace.


47. Baboró
Baboró International Arts Festival for Children brings the most diverse selection of the finest in performing arts from Ireland and around the world to its annual festival especially for children in Galway. The exciting festival programme of theatre, dance, puppetry, music, art and literature varies from year to year to bring a wide diversity of exposure to the creative arts especially created for young audiences, their schools and families. In 2016, we celebrate 20 years of presenting a multidisciplinary arts festival to thousands of children in Ireland from our base in Galway City.


48. Dancing
If you're a fan of Irish dancing Galway is the place to visit. Whether it's the wonderful dancers on Shop Street during the day, in the bar's during the daily sessions or some of the amazing shows during the summer like Trad on the Prom. It showcases the amazing talents of trad musician Máirín Fahy the featured soloist with Riverdance and The Chieftains. Each night Máirín is joined on stage by a stellar selection of guest musicians and dancers.


49. Local drinks
As everyone knows Galway is one of the best places in the country to enjoy a night out. Apart from the usual names we have a number of our own tipples. Galway Hooker is a very popular beer which is available in across the city. Micil Poitin and Gin another up and coming brand which is proving extremely popular. The latest Galway drink is Galway Cider which is expected to be one of the popular drinks of this summer.


50.Galway
What can we say compiling this list has reminded us (not that we needed it) how special Galway is. Visiting Galway is never an unnecessary journey. You get the Galway welcome as soon as you hop on the very friendly local bus company Go Bus at Dublin Airport or the city centre and travel west. Galway is more than a place, it's a feeling and an emotion.
See you here soon!